Scarborough residents know: this part of the city is special, which is why you want an arborist in Scarborough who knows the area! Scarborough's neighbourhoods, especially along Lake Ontario and the Bluffs, can have their own special considerations for tree care.
The weather in Scarborough is often a few degrees cooler than in the centre of the city. That's partly due to proximity to the lake, as well as large areas of green space and many mature trees that bring the temperatures down. Neighbourhoods like Cliffside, Cliffcrest, Birch Cliff and Guildwood especially see the lake effect on temperatures.
Scarborough Weather and Your Trees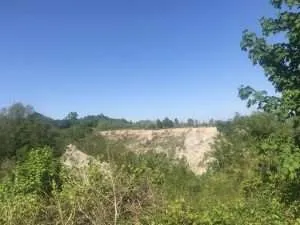 Scarborough's microclimate doesn't only affect temperatures. Intense weather, like wind and ice storms, often hits Scarborough harder. This means it's especially important to stay on top of tree pruning and hazards. Regular maintenance helps keep your property safe during storms.
Scarborough gardeners already know that they should stick to a different growing zone than residents in downtown Toronto when picking their plants (while central Toronto and most of the GTA is Zone 5, Scarborough residents do best picking plants suited to Zone 6).
Scarborough soil contains a lot of clay. This makes water drainage slower. However, clay soil retains moisture well and has a lot of nutrients. Moisture-tolerant trees do best in soil with a lot of clay. If your trees and plants are having growing issues, an arborist can conduct a soil test in your yard. We can give recommendations on soil amendments if needed to provide a better growing environment for your plants.
Common Scarborough Trees
With so many trees in Scarborough, you can find a diversity of common Toronto and GTA trees here. Some of the trees common in Scarborough include sugar maple, red maple, silver maple, white ash, black oak, white oak, bur oak, American beech, hawthorn, ironwood, bitternut hickory, and black walnut.
Manitoba maple and Norway maple are also common. However, these are not native Ontario trees and are considered invasive species here.
Crabapples are one of the more common tree species in the area. They were commonly planted during postwar residential development in the area. However, crabapples are not a very long-lived tree. Many of these trees are now coming to the end of their lifespan and need removals or extra care.
Tree Ribbon Campaign
Scarborough is also home to many large trees that are focal points in their neighbourhoods. Like this American elm in West Rouge, one of the city's largest, a rare survivor of Dutch elm disease in the second half of the 20th century.
There are also well-loved oaks, northern catalpas, spruces, and other large trees across Scarborough. Many of these large trees remain from the time when Scarborough was farmland. Since Scarborough still had lots of farming into the 20th century, many of these large trees remain where other parts of Toronto saw large farm trees removed.
The Cliffcrest Scarborough Village SW Residents' association is so devoted to their large trees, they've started a ribbon campaign to mark some of these trees. Assisted by students at Bliss Carman Senior Public School, large, majestic trees have been marked with ribbons so neighbours and passersby can identify them. You can view a map of these trees on the residents' association website.
Scarborough Tree Removal
For tree removal requests, we'll conduct an assessment of your tree and the problem. In many cases, it may be possible to preserve a tree with pruning, pest treatment, or cabling. If removal is the best option for your tree, we'll guide you through the process.
This includes submitting a Toronto tree removal permit application for your tree. Once your removal permit is approved, we will safely remove the tree and remaining debris from your property.
Tree Care on the Scarborough Bluffs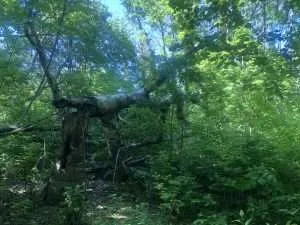 Trees close to the waterfront and affected by lake winds and mist need special care. With our roots in Scarborough, we understand the effects of the lake and Rouge River watershed on climate and soils. We can provide specific recommendations on care for your trees and planting new species.
Trees backing onto the Bluffs, or onto ravines in the Rouge or Guild areas, especially need consideration when it comes to removals. Tree removals, or construction and landscaping work, in ravine areas require special permits by Toronto bylaw.
Pest Management in Scarborough
Scarborough yards tend to see many of the same pest issues and diseases as the rest of the city. But a few that are particularly prevalent here include:
Cedar mites

These microscopic mites are prone to sucking out nutrients from cedars, junipers, and cypresses. They can cause branches to yellow and die off. Cedar mites can be treated in the spring or fall to prevent reinfection.
Gypsy moth/ LDD moth

One of the biggest concerns for homeowners, gardeners, and conservation authorities in Ontario, this moth causes defoliation on plants. The caterpillars eat the leaves of over 400 tree and plant species, including oak, sugar maple, elm, birch and poplar. 2021 has seen particularly bad infestations in the GTA. If you notice signs of the caterpillars or defoliation, call an arborist right away — LDD moth caterpillars can cause severe damage in a day or two.
Cedar leaf miner

Cedar leaf miners also feed on cedar branches, causing yellowing. They affect eastern white cedar trees. The adult leafminers appear in June and July, laying eggs in July and August. Damage over several years can cause branch and stem death.
If you have confirmed or suspect a major pest infestation on your trees, it's important to have a professional come diagnose and treat the issue before it gets worse.
We Care About Scarborough Trees
Trees are one of the great things that give Scarborough so much character. Keep your property beautiful by caring for your trees. We know Scarborough trees. If you have a tree issue, contact Vista Tree Management for your free consultation today!