Toronto Tree Care Experts
Not a cost, an investment
Trees enhance your property, improving the look, feel and privacy you enjoy at home. People with regular access to nature are happier and healthier, live longer and perform better in all areas of life. Trees and greenery clean the air around your home, naturally reduce heat in the summer time and make a picture perfect backdrop for relaxing and rejuvenating in your own private oasis. 
Proper upkeep and maintenance of trees increases your safety and security, while reducing any nuisances they pose to your roof, pool, car, deck or other area. 
Homes with enhanced curb appeal from well-maintained trees, hedges and shrubs can see up to 10% increases in value at sale, increasing your return at the time you need it most.
If you're looking for the cost of hedge trimming, small tree removal prices or big tree removal prices you can check out our tree care pricing page. 
Services for Trees Large and Small
Vista Tree Management is a full service tree care company offering pro tree service in Toronto, Etobicoke, Scarborough, North York, Markham, Stouffville, Whitby, Oshawa and Ajax. We are tree care experts. Learn more about our individual services by clicking on links below, or learn more about our company here.
Small, medium and large tree removal by Certified Arborists. Backyard and front yard tree removal, felling and lot clearing, trees in tight spaces and removing trees near houses.  
More About Tree and Shrub Removal or Tree removal costs
Emergency response to dangerous trees and storm damaged trees. Broken branches, tree cracks, split trees, trees on houses, trees on roof, fallen trees and other tree emergencies.
More about Emergency Tree Services
Tree Health Care & Deep Root Fertilizer
Deep root fertilizer for tree and hedge health, treatments for common tree diseases, tree health assessment and more.
Arborist reports and tree permit applications for residential and commercial customers.
More about Arborist Reports
To be the best tree company in Toronto, we follow our proven process. Our Certified Arborists will walk you through the steps from first meeting to job completion to ensure we're checking every box and meeting or exceeding your expectations. 
Learn more about The Vista Tree Advantage
Whatever the size of your project, you deserve peace of mind that you're paying a fair price. We offer a price-matching guarantee on all of our tree services.
Solutions on your schedule. Pre-schedule service, postpone or expedite work, and make incremental or large scale improvements to your green space.
We do not charge for assessing your trees or property – no house call or services fees. Our team of Certified Arborists will assess your project and provide a quote at no cost to you.
Let's solve your tree problems!
Vista Tree has quick response times, clear quotes and guaranteed delivery. We're Certified Arborists, who are as passionate about customer service as we are about tree service! Our expertise is backed up with many years experience delivering  the best outcomes for our clients, their properties and their trees, every time. 
Judge us by the company we keep
We're proud to be certified by leading industry associations, contributing members to the arborist industry and supporters of the broader business community.
Latest Articles - Tree Care Tips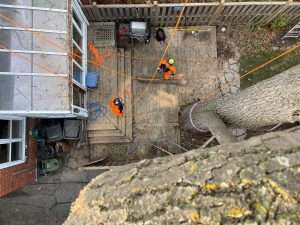 Experiencing a neighbour's tree falling onto your house can be an incredibly nerve-wracking and daunting situation. In addition to dealing with the immediate aftermath of the incident, you'll also have to consider potential legal and insurance implications. In this comprehensive blog post, we will delve into various aspects related to having a neighbour's tree fall
Read More »
This is the biggest and most comprehensive list of tree services near me, arborists near me and all the tree companies, professional arborists and others operating in the City of Toronto.
Read More »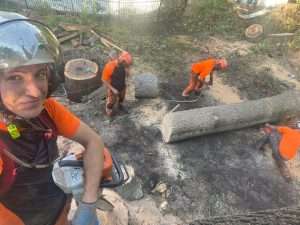 What is the cost of tree trimming in Toronto? Some people can be caught off guard by the price of tree care, but here's why tree maintenance is cheaper than you think.
Read More »