Short on outdoor space? Here are your best small tree planting options
Like many Toronto and GTA homeowners, you may be short on outdoor space, but still looking at your options for planting trees for small yards. You want the greenery and shade that comes with backyard trees, but need some smaller-sized options that won't overwhelm the space as they grow.
Ontario native trees are best for supporting the local ecosystem and ensuring you plant a tree that will do well in this climate. However, there are many small tree species well-adapted to Southern Ontario that also grow well. Familiarize yourself with invasive tree species and avoid planting any of these.
If you need to plant some trees for small yards, here are some great options in the GTA and Southern Ontario.
Downy Serviceberry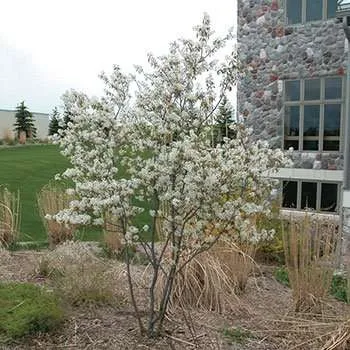 The Downy Serviceberry is a native Ontario tree that gets its name from its cascade of fluffly white flowers in spring. This native tree is particularly happy in Toronto and GTA growing zones.
It's a slower-growing tree that grows in full sun or partial shade. Serviceberries grown to a height and width of 4.5-7.5m (15-25 feet). It grows best in moist, acidic soil. It's also a very drought-tolerant and disease-tolerant tree.
The tree produces edible red berries in June. In fall, the serviceberry has red-orange leaves.
Smooth Serviceberry
Like its cousin the Downy Serviceberry, the Smooth Serviceberry is a native species that grows to a height and width of 4.5-7.5m (15-25 feet).
It grows best in moist, acidic soil and full sun to partial shade. The Smooth Serviceberry also grows showy white flowers in spring and edible berries in early summer. The berries were a staple food for prairie Cree First Nations. It has lovely golden yellow, orange or red foliage in fall.
Serviceberries are very adaptable and easy to transplant. The Smooth Serviceberry can also be planted underneath hydro lines.
Alternate Leafed Dogwood (Pagoda Dogwood)
The tallest dogwood native to Ontario, this dogwood can either look like a 2m shrub or small 6m (20 foot) tree. It's also known as pagoda dogwood and is sometimes used in gardens to create a Japanese garden effect. The branches can spread up to a width of 5m.
Bark is bright green with white streaks. The alternate leafed dogwood grows white flowers in spring, which turn to purple berries in summer.
This small native tree grows in moist, well-drained sites. Since they often grow in Ontario forests, they're very tolerant of shade. However, they also grow well in the sun on their own
Eastern Redbud
This small tree explodes from magenta buds into a burst of lovely pink flowers in early springtime. Native to Southern Ontario, the Eastern Redbud has heart-shaped leaves come late spring, and a rounded crown. The flower clusters become bean-like pods that stay on the tree until winter.
The redbud does well in most soil types and levels of full sun to partial shade. It grows to a height of 6-9m (20-30 feet). Trees in full sun need to be watered regularly.
Ohio Buckeye
This small to medium tree is native to Southern Ontario, though it is more common in the midwestern United States. It can grow up to 15m tall and has a rounded crown.
Leaves are in clusters of 5-7 pointed leaflets. It has become a popular choice for city tree planting in recent years in Toronto and other Ontario cities. In Toronto, you can find them in Trinity Bellwoods, Toronto Island parks and Queen's Park.
It prefers moist soil and can tolerate a high pH. Partial shade is best for this tree, though it can grow in full shade as well.
Paperbark Maple
One of the smaller maple varieties, this is an ornamental maple tree with beautiful reddish peeling bark. Native to central China, it was first brought to North America in the early 20th century and is a non-invasive species that does well in Southern Ontario's climate.
This tree grows to a height of up to 10 m or 30 feet, and width of 25 feet.
It grows in full sunlight or partial shade and has a slow growth rate. It needs average or moist soil conditions.
Hanna's Heart Katsura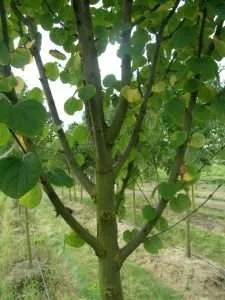 A hardier variety of katsura tree, this tree is smaller and narrower than other katsuras, making it perfect for small yards. It has heart-shaped leaves and a beautiful yellow-orange colour in fall. They hold their leaves long into the fall.
These trees grow to 3.5-8m in height (10-25 feet) and a 4m or 12-foot width.
They prefer full sun and moist, but not wet, soil, and shouldn't be left to dry out.
Royal Star Magnolia
A small magnolia that's filled with floppy white flowers instead of the more common purple in early spring, this is a lovely accent tree for small yards. Native to Japan, it does well in the GTA climate.
It grows to a height and width of about 3.5m (12 feet). These are slow growing trees, and often suggested for planting under power lines.
The Royal Star Magnolia grows in moist, well-drained soil and full sun or partial shade. It doesn't do well in pollution, so it's better-suited to backyards and may be a better choice for yards farther from major roadways or busy downtown areas.
Gray Dogwood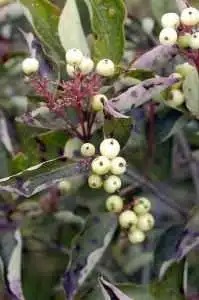 The Gray Dogwood is a good tree for poor conditions, thriving in most types of soil and full sun or partial shade. It has reddish leaves in the fall and white berries in late summer. The berries are favoured by Ontario bird species, but are not edible for humans. It grows to about 3m or 9 feet.
Often used for naturalizing gardens or creating a woodland effect, this native species is hardy and does well around urban pollution. This makes it suitable for either front or back yards and gardens in dense downtown areas. It's slow-growing, and can be planted under power lines.
Blue Beech
The Blue Beech is a small tree native to Southern Ontario, particularly around the Lake Ontario and Lake Erie areas. It's also known as American Hornbeam. Growing up to 8m high (26 feet), this tree is best for rich, moist soil conditions. It can handle seasonal flooding, so may be a good choice for a damp yard or property near the lake.
Blue Beech has bluish-green leaves with fine teeth, and small nuts in fall. It's known as an understorey tree, meaning it does well in full or partial shade. It is known for its strong wood.
Other Ontario Trees for Small Yards
Even with a small yard, you can benefit from the health and environmental impacts of planting a tree! There are many native and non-invasive species suited to all types of urban and suburban conditions.
For planting recommendations for your yard, or assistance with tree planting, contact an arborist at Vista Tree today.