Urban Tree
Service Experts
Certified Arborists in Toronto - Professional Tree Services
Vista Tree Management is the top tree service company for homeowners and land developers seeking professional arborists in Toronto. We don't just care for trees, we manage them to make nature work for you – whatever your vision.
We provide top quality, professional tree care by highly trained, Certified Arborists at a fair price.
Trusted by Your Neighbours
James responded quickly to my request for a quote and he and his crew did an extremely professional job with perfect cleanup. I would recommend these guys in a heartbeat. James is an excellent communicator and a pleasure to work with. Thanks for giving my garden a great jump on Spring.
Lawrence Tavers
17/04/2023
James and Michael have been the best arborists I've ever dealt with. First off, they were friendly and professional. They didn't just throw out a number, they went through the job and what needed to be done and what didn't and gave me a reasonable price. On the day, the crew came and did a fantastic job. It was a hard one but they made it look easy. And the clean up was perfect, my yard looked better than it did before they came. They're my go to from now on.
Johnathan Melnick
15/04/2023
I got two trees removed for a renovation project, and vista was on it right from the start. Report came through right away, permits right after but then due to some cost over runs I had to delay for 4 months and hold off on the removals until last month. Trees came down so well, crew was really professional. They left the site looking CLEAN and thats saying a lot as it had a lot of builder garbage around .stump grinding happened right away. James and Mike went above and beyond to manage this and help me out when the unexpected happened. Definitely recommend.
Very professional work. We are very satisfied with the quality of the work done. We would recommend Vista 100 percent. Great quality, performance and professional.
John Rydzkowski
04/04/2023
I had James and his crew cut down and remove my 40'+ blue spruce before the wind blew it over. There was an urgency in getting the work done and they were there for me. They were very professional, worked safely and cleaned up when they were finished. They also showed me proof of insurance and WSIB which is very important as a home owner. I'm happy to recommend them to anyone. Thanks 😊
Vista Tree Management came to our house and did a wonderful job helping to protect the roof from squirrel damage. James walked around the perimeter of the house with me and pointed out every tree branch that might possibly be the instrument of a squirrel finding its way to the roof. He then set up a time, came over promptly, and in short time cut down many tree limbs and branches. He consulted with me about whether anything else needed to be done, and when I pointed out one last branch, he cut it down. I feel I have finally found a tree service which has the knowledge and expertise to help with my property. My husband and I are more than satisfied! The staff at Vista Tree Management were so very helpful.
Kristian Alexander Kennedy
15/02/2023
We had the pleasure of working with Vista recently and we could not have asked for better service. We have a small apple tree and hedge in our front yard that we wanted pruned. As part of the quote, we had also requested that some time be spent with us as the pruning occurred so that we could learn how to properly care for our garden going forward. James was prompt, responsive and incredibly thorough. He completed the tasks exactly as we had discussed and as was quoted. He was patient and spent lots of time teaching us the various pruning methods that he was utilizing. Not only does he have excellent attention to detail while pruning, but he also takes great care in cleaning up all the plant debris once he was finished the job. We can't thank him enough for the excellent service provided. We will be sure to reach out to Vista for all of our future pruning/landscaping needs. Thanks James.
Vista Tree Management focuses on one thing: tree service excellence. As professional arborists, we're tree experts, providing a core of arboricultural services to enhance the natural beauty and safety of outdoor spaces. We built our tree care company to provide premiere service in Toronto and surrounding areas.
Click here for all of our tree care services!
Curious about the price of tree care in Toronto? We have an entire section of our website devoted to answering your questions. This is a new feature and will be expanding further into the future to answer all the questions you'd love to ask but tree companies rarely want to answer.
Whatever the size of your project, you deserve peace of mind that you're paying a fair price. We offer a price-matching guarantee on all of our tree services and upfront information on what tree care costs.
Solutions on your schedule. Pre-schedule service, postpone or expedite work, and make incremental or large scale improvements to your green space. We're a local tree care company offering greater flexibility for you.
We do not charge for assessing your trees or property – no house call or services fees. Our team of Certified Arborists will assess your project and provide a quote at no cost to you. 
"These guys are the best! Very professional, easy to work with and very nice people. I had 4 different companies for the quotes and Vista Tree were the best by every criteria I had in mind."
Oleg Velykyy
Google Review
"We have used Vista Tree for two years now for a few different jobs and all I have to say is that they are extremely professional and very knowledgeable. They do amazing work, and we will definitely be using their services again."
Tom Murray
Google Review
"Absolutely amazing company. Came on time, very organized, neat, clean and very pleasant. Absolute treat to have them working on my property. Mike was the team leader of the crew that I had the pleasure of working with."
Anne Richardson
Google Review
We are all extremely happy with your work at St. Mary Magdalene Church. Your team was friendly, courteous, professional, efficient and followed and practiced caution and safety procedures from the moment you arrived on site.
Mark Stenabaugh / St. Mary Magdelene Church
Google Review
Transparency. Solutions. Guarantees.
Proof of proper insurance is a must when allowing any contractor onto your property, as you can be held liable for any damages or injuries caused by uninsured workers. We have you covered! We carry comprehensive policies for general liability, vehicle claims and employee health and safety.
We love making trees work, there's no doubt about it.
Vista Tree Management was born out of a desire to set new, higher standards for tree companies and client service in Toronto. We are friendly, flexible and frank – there's more than one way to cut a tree so we let you know what your options are.
Professional Arborists, Happy to Serve You.
Judge us by the company we keep
We're proud to be certified by leading industry associations, contributing members to the arborist industry and supporters of the broader business community.
Let's solve your tree problems!
Vista Tree has quick response times, clear quotes and guaranteed delivery. We're Certified Arborists, who are as passionate about customer service as we are about tree service! Our expertise is backed up with many years experience delivering  the best outcomes for our clients, their properties and their trees, every time. 
Latest Articles: Tree Care Tips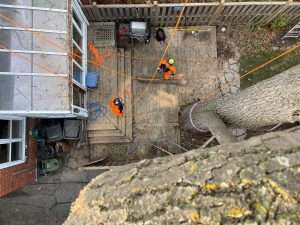 Experiencing a neighbour's tree falling onto your house can be an incredibly nerve-wracking and daunting situation. In addition to dealing with the immediate aftermath of the incident, you'll also have to consider potential legal and insurance implications. In this comprehensive blog post, we will delve into various aspects related to having a neighbour's tree fall
Read More »
This is the biggest and most comprehensive list of tree services near me, arborists near me and all the tree companies, professional arborists and others operating in the City of Toronto.
Read More »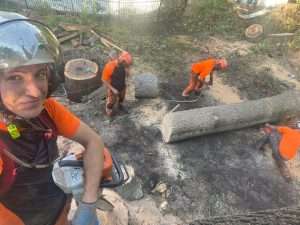 What is the cost of tree trimming in Toronto? Some people can be caught off guard by the price of tree care, but here's why tree maintenance is cheaper than you think.
Read More »