Removing or Felling Trees
Removing Trees, Large and Small
Toronto Tree Removal FAQs
What tree removal services do you provide?
Our tree felling and removing services include tree removal, shrub and hedge removal, felling, and emergency tree removal. We can remove trees of all shapes and sizes. We also do commercial tree removal for construction and renovation.

We are able to remove trees in tight spaces where felling the tree isn't possible, using advanced techniques and equipment. This is challenging, precise work that only a professional arborist should undertake. When necessary, we use Spyder lifts, cranes and skid steers to make the removal process safe and efficient. No matter what technique we use, we do a meticulous clean of your property when we're done.

If your tree requires a permit, we will write the arborist report for you and submit the application on your behalf. Toronto tree removal bylaws require a permit to remove trees wider than 30 cm in diameter. That's a trunk roughly the size of a telephone post at 4.5ft, for reference. Click to learn more about how to know when you need an arborist report.
Is your tree service near me?
We offer tree removal service in the city of Toronto, including York, East York, Scarborough, North York and Etobicoke. We offer service as far north as Stouffville and Markham, and as far east as Oshawa, Whitby, Pickering and Ajax. We have offices five minutes from downtown Toronto, in East York as well as a second office in Scarborough.
How can Vista Tree help with removing a tree on your property?
We can assess your tree's health and determine the best way to care for your tree and property. If removing the tree is the right choice, our arborists will work to safely remove your tree. If your tree requires a permit before removal, we will handle getting it for you. Our arborists will assess the tree, write a report and manage the application on your behalf.
Our tree company is fully licensed, insured and staffed by Certified Arborists. We operate in the City of Toronto and neighbouring areas to provide tree felling and removal quickly, safely and efficiently. Learn more about our tree company here.
Why do trees need to be removed?
Most trees in Toronto are removed for construction, followed by the tree being hazardous. Tree hazards are not the same as tree problems. The risk a tree poses can only be assessed by a certified arborist trained in tree risk assessment. If you feel your tree is a risk, contact us to get a free assessment.
Storm damage is another common reason for trees to be removed. After a wind or ice storm, trees many have significant damage and may need to be removed for safety. Signs of risk include broken branches, cracks or splits, tree roots moving and significant changes to the tree after a storm.
If something is wrong with your tree, it may be a problem with how it has grown, or damage that occurred in the past. The best way to handle the tree problem is to have it assessed before it becomes a bigger issue.
What will removing a tree cost?
My tree is dangerous, what should I do?
First, read our post about how to tell if your tree is dangerous. If the tree is small, it may be removed right away. If it is a large tree, however, you will have to get a permit to remove it. You are allowed to remove trees from your property without a permit only when it is an imminent hazard and the city grants an exemption.
For this application, you'll need to prove the tree is at imminent risk of failure which means it could fall at any minute and is likely to harm someone or cause property damage. This threshold is very high. An arborist report can help you make the argument to the city that the tree needs to go. If the tree is entirely dead, no permit is required but proof must still be retained and submitted.
If your tree qualifies for an exemption as a hazardous tree or is dead (died naturally or destroyed in a storm), you'll need to remove it as soon as possible. The maximum time allotted by the city is 72 hours after granting an exemption. 
Since tree companies are generally very busy during summer and after storms, it is better to consult with an arborist before you contact the city. Since you'll need to remove the tree on an emergency basis, it is better to have a tree removal company in place before you receive approval. 
If your tree doesn't receive an exemption, you can still remove it through the regular tree permit process.
What tree service company should I choose?
When you're searching for a tree company, getting a professional, locally owned option is tough. Big box companies aren't local, and they don't offer the high quality or customer service you need. On the other hand, how can you tell if a small, locally owned tree company is trustworthy? We have a list of the best tree removal companies in Toronto, and the best smaller, local tree removal companies as well. 
Our tree removal service is fully insured. We are certified arborists with diplomas in Urban Arboriculture from Humber College, among many other credentials and certifications. We are a professional, family-owned business with employees located in the City of Toronto. We're big enough to handle all your needs, and small enough to care about all the details deeply.
Tree Services by Professional Arborists
The best solutions for your tree problems, whatever they may be. From first contact to clean up, we deliver friendly, responsive service the whole way.
Big box companies can't compete with our care and quality. Small contractors don't have the knowledge or resources to do your job properly.  Vista Tree management is your "just right" Toronto tree service. Our passion for trees is combined with our deep respect for our client's property and time.  Our exceptional customer service, skill and clean-up set us above the rest.
Judge us by the company we keep
We're proud to be certified by leading industry associations, contributing members to the arborist industry and supporters of the broader business community.
Let's solve your tree problems!
Vista Tree has quick response times, clear quotes and guaranteed delivery. We're Certified Arborists, who are as passionate about customer service as we are about tree service! Our expertise is backed up with many years experience delivering  the best outcomes for our clients, their properties and their trees, every time. 
Latest Articles - Tree Care Tips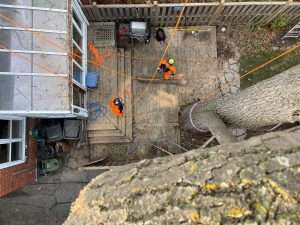 Experiencing a neighbour's tree falling onto your house can be an incredibly nerve-wracking and daunting situation. In addition to dealing with the immediate aftermath of the incident, you'll also have to consider potential legal and insurance implications. In this comprehensive blog post, we will delve into various aspects related to having a neighbour's tree fall
Read More »
This is the biggest and most comprehensive list of tree services near me, arborists near me and all the tree companies, professional arborists and others operating in the City of Toronto.
Read More »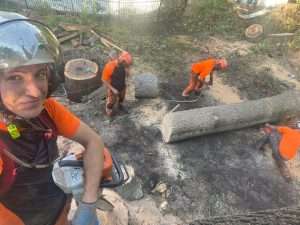 What is the cost of tree trimming in Toronto? Some people can be caught off guard by the price of tree care, but here's why tree maintenance is cheaper than you think.
Read More »