About Vista Tree Management
A proven process for managing trees.
There's no other company with "tree management" in the title — we're passionate but also precise. We approach trees and tree work with an eye to total project management which allows us to carefully shape every stage of the process, whether that's coordinating with multiple contractors for development or simply arranging for your neighbour to move their car.
We're not landscapers, gardeners or handymen. Being an arborist is more than just a career for us, it's a calling. We climb the largest trees and care for the smallest shrubs delivering professional, scientific and precise work. We're masters of our trade, jacks of none.
Your happiness and satisfaction is our ultimate goal. From our first interaction to a final goodbye from the crew on site, we want you to experience the best in customer service.
Flexible Scheduling and Staging
We'll work with you to find a date that works with your schedule. If you need it more urgently, we can expedite work and if you need to hold off for awhile we do that too. Many companies either refuse to break up work, or don't know how. We're experts in developing short and long term plans to match your schedule and budget.
Honest Opinions, Clear Quotes
When it comes to tree work, the devil is in the details. Our quotes are highly specific about the work we'll provide and the cost.  We'll give you an honest opinion about your tree problem and explain it throughly. We don't push unnecessary tree services because we adhere to scientific and ethical obligations.
We've been in business for five years. There are many fly-by-night operators, untrained individuals and tiny companies offering tree work today to be gone tomorrow. We're not one of them. We're accountable today, tomorrow and everyday thereafter for our work and service.
100% Licensed and Insured
Tree care is dangerous work and no tree company is immune. We work on extremely hazardous trees and operate deadly machinery, everyday. When you hire a company with little or no insurance, you could be held liable for any incident. We carry WSIB, extra health and care insurance for employees and $5m in General Liability insurance — way above the industry average. 
Support Local, not Big Box
Vista Tree Management is locally owned and operated in the City of Toronto. We're big enough to handle the toughest projects but offer a boutique experience the big box tree companies can't. Our employees are local, and we offer living wages or above to ensure we hire the best.
Years of Experience and Training
Practice makes perfect, which is why we insist on the highest levels of education and training for our employees. We have years of experience delivering exceptional tree care and we do our practice on our own time — not yours. 
We offer price matching with direct competitors. When the service is the same, the tree company is certified, insured and fully established we are happy to match their price to offer our better service. We just ask for proof to know we're comparing apples to apples. 
Your neighbours already know how great our work is, and you can see for yourself in our client testimonials and Google rating of 4.9!
Whenever we can, we source environmentally friendly products like battery powered blowers and chainsaws to reduce our carbon footprint. We recycle wood, wood chips and other debris to give it a second life.
We give back to our communities and to our employees at every chance. We are donors to a variety of local causes, like food banks and kids' sports teams. To ensure we're supporting our own, we are members of the Ontario Living Wage Network and build high-skilled careers, not low wage service jobs.
Judge us by the company we keep
We're proud to be certified by leading industry associations, contributing members to the arborist industry and supporters of the broader business community.
Let's solve your tree problems!
Vista Tree has quick response times, clear quotes and guaranteed delivery. We're Certified Arborists, who are as passionate about customer service as we are about tree service! Our expertise is backed up with many years experience delivering  the best outcomes for our clients, their properties and their trees, every time. 
Latest Articles - Tree Care Tips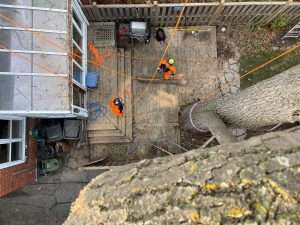 Experiencing a neighbour's tree falling onto your house can be an incredibly nerve-wracking and daunting situation. In addition to dealing with the immediate aftermath of the incident, you'll also have to consider potential legal and insurance implications. In this comprehensive blog post, we will delve into various aspects related to having a neighbour's tree fall
Read More »
This is the biggest and most comprehensive list of tree services near me, arborists near me and all the tree companies, professional arborists and others operating in the City of Toronto.
Read More »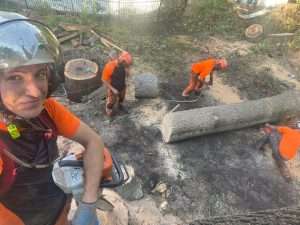 What is the cost of tree trimming in Toronto? Some people can be caught off guard by the price of tree care, but here's why tree maintenance is cheaper than you think.
Read More »