We may not all be ready to admit it, but winter is coming. Avid gardeners prepare their gardens for winter, but do you know how to prepare your trees and shrubs for winter?
Just like us, trees are affected by cold temperatures too! When you're clearing away dead plants in your flower or vegetable garden and filling up your yard waste bags, spend an hour or two engaged in tree care to ensure your property's biggest plants are properly prepared for winter.
Take Care of the Babies First
Ever dressed a newborn for the winter? You can't just throw on a jean jacket in January and call it good enough, the way some adults do. It's the same with trees: Younger, newly planted trees are more vulnerable to the cold and harsh winter conditions due to smaller root systems.
Pay extra attention to preparing any new trees for winter. Consider wrapping bark on younger trees up to the lowest branches using tree wrap. Remove the wrap in April when the weather warms up.
Put Coats On
Wrapping can also be helpful for thin-barked trees, including honey locust, maple, linden, and ash. Trees with thin bark are vulnerable to frost cracks and sun scald in the winter. Fruit trees and cedars also benefit from wrapping.
Burlap wrapping can also be useful for hedges, shrubs and small decorative trees. Particularly with trees close to roadways, it can help mitigate damage from road salt, slush and dirt.
Fertilize
Fertilizing is one of the best things you can do for your trees before winter comes. In the forest, falling leaves help restore nutrients in autumn to the ground and trees' roots. In the city, there may be few nearby trees and leaves may be quickly cleared away. Additionally, city conditions make things hard on trees: lack of water or space to grow, low nutrients in the soil and too much or too little sunlight due to surroundings.
Fertilizing helps improve soil quality so that trees preserve their nutrients over winter and grow back healthier in the spring. Vista's fall fertilizing service uses an organically derived NPK fertilizer with biochar. With more complex cases, we can offer soil testing and add amendments to fertilizer to optimize for your yard's health. Fertilizing can make trees greener and promote recovery from pests or other recent damage. We especially recommend it for trees and shrubs that suffered pest damage over the summer season.
Mulch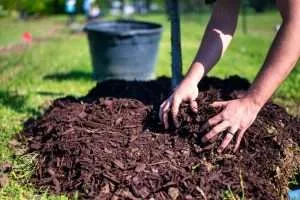 Adding mulch to the base of your tree helps protect it from cold temperatures and reduce evaporation from the soil and improve water absorption. Using 10-20cm of wood chips, bark or mulch, stack the mulch near the base, but not directly against it. Leaving some space around the base of the trunk lets the trunk breathe.
Mulching can help protect your trees from the freeze-thaw cycles that normally plague us through southern Ontario winters. If you and your neighbours want to band together, you can order wood chips from Chip Drop.
Instead of filling up your yard waste bags, you can also use fallen leaves as mulch, which helps bring nutrients from the soil to your tree's roots. This is the process that happens naturally on the forest floor — removal of leaves, or lack of fallen leaves in general, can lead to the nutrient deficiencies we often see in urban trees. It's a little early in the season right now, but boughs and branches from any Christmas decorations and trees can also serve this purpose.
Water
Do you need to water trees in fall? We give thirsty trees a drink during summer heat waves, but in cool fall temperatures, you may think your trees don't need extra water. Before you pack away your garden hose, though, water trees thoroughly around the base in the area extending out to the length of the longest branches (usually, equal to the height of the tree).
Watering can also be helpful during dry spells over the winter: when there is no snow cover or precipitation, watering once or twice a month can help keep trees hydrated. This isn't only for deciduous trees — in fact, evergreens can be some of the most vulnerable to dry conditions. They lose their needles going into winter and need extra water stored up.
Consider Winter Pruning
Late winter is one of the best seasons for pruning, but pruning can be done any time through the winter when trees are dormant. Winter pruning is often easier for arborists, since all the branches of a tree are easily visible.
Like many arborists, our team keeps working all year round, and pruning can also be a great time to get a good rate when demand is lower. By getting ahead of the game, you'll ensure trees are ready for healthy new growth once the weather warms up and buds come out in springtime.
Keep Salt and Ice Melters Away
It can be easier said than done on tiny downtown Toronto lots, but the products we use to keep snow at bay for pedestrians and vehicles can wreak havoc on our trees and plants. Excessive use of rock salt, ice melters, cat litter, et cetera, is damaging to trees and plants, not to mention to the general ecosystem and water table.
Use the minimum amount you need, stick to sidewalks, driveways and pathways, and consider switching to more eco-friendly alternatives like brine, beet juice, or sand. Slush and dirt from roadways can also contain salt and other toxins. Try to avoid piling dirty snow near your trees and shrubs.
Are Your Trees Ready for Winter?
If you need a hand with fertilizer or preparing your trees for winter, talk to Vista Tree to learn more about our fertilizing and pruning services.